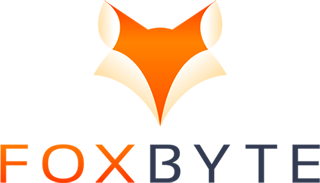 Privacy Policy
For Android Apps
Effective Date: March 25, 2021
This Privacy Policy provides information about how our Android apps collect data, how they use and share your user data, and our commitment to using the personal data we collect respectfully.
We at Foxbyte Code Inc. ("Foxbyte", "we", "us", "our"), care deeply about privacy, and security to protect users of our products and services ("you" and "your") from the risks of theft, disruption, and unauthorized access to their online information.
Foxbyte Code Inc. sells products and services directly to consumers, as well as business customers.
This Privacy Policy applies both to the information we collect from you or your device when you download one of our Services, and to the information we collect when you install our Services on your device.
When you use our Services (apps for Android), you acknowledge that you have read this Privacy Policy and understand its contents. Your use of our Services and any dispute over privacy is subject to this Policy, any applicable Terms of Service (including any applicable limitations on damages and the resolution of disputes), and any applicable End User License Agreement.
As Foxbyte Code Inc. grows, our business changes, and we may update this Policy at any time as we deem appropriate to reflect those changes. If there are any material changes to this Privacy Policy, we will notify you by email, in-product notification, or as otherwise required by applicable law. It is important that you check back and make sure that you have reviewed the most current version of this Policy.
This Privacy Policy applies to all users of our Services across the world. Some users, including residents of the European Economic Area, may have additional rights depending on where they are located, which are described in this Policy.
What Kinds of Information Do We Collect?
To provide our Services, we collect information. Some information you provide directly to us, some we collect automatically through our Services, and some are collected from third parties as Google Play Services, Google Analytics for Firebase, and Firebase Crashlytics.
We collect the information you provide to us. For example, while using our app, we collect and process the following Service and Device Data through your interactions with the Services and devices on which our Android apps are installed is restricted to the following:
users' installed app package information (package-name and SHA-256 checksum)
Details about your devices, including internet protocol (IP) address, and other device identifiers, and operating system. We may collect this information through our Services.
When you use our products to protect your mobile device, we collect geo-location data (based on the IP address, and not related to the GPS) of the device on which the product is installed.
Your data is sent anonymously and automatically to our server at
https://www.foxbytecode.com/api
The data transmission is performed in encrypted (AES-256 bit) form using the HTTPS protocol and cannot be tracked back to individuals.
Why we process your data and What is the purpose of sending users' installed application information to our server?
The data of users' installed package information you send to our cloud server is needed to provide the services to you, to offer you an accurate detection of malware and detect suspicious espionage threats.
Our purpose in collecting your information is to equip you with useful products and services that provide a more agile, dynamic response to new and unknown threats.
The purpose of sending users' installed application information to https://www.foxbytecode.com/api is to analyze the installed application information by our Foxbyte Code Anti-Malware Cloud server.
Foxbyte Code Anti-Malware Cloud runs on servers and not on individual devices, like the user's smartphone. This ensures the full performance of the cloud servers and enables quick and precise analyzes.
At the same time, it keeps the user devices resource-efficient with optimal performance.
The data processing ensures:
Identifying new threats, their behavior, their security status, and their sources.
Determination of the reputation of examined objects.
Reducing the likelihood of false alarms.
Increasing the performance of software components.
Performance increase for the rights holder's products.
Access to the confidential installed app information and use is directly related to the provision and improvement of Foxbyte Code Inc. Android apps' functions.
What data do we collect?
When using an internet connection to Foxbyte Code Anti-Malware Cloud, you send selective installed app package information of apps you have installed on your smartphone. The type of data we collect include the following:
The apps corresponding package name
The calculated SHA-256 checksum of the apps apk file
Your data is sent anonymously and automatically to the following URL:
https://www.foxbytecode.com/api
The data transmission is performed in encrypted (AES-256 bit) form using the HTTPS protocol and cannot be tracked back to individuals.
How do we use the information we collect?
We use your data (as listed in section 4.) on our servers to
(a) provide and operate our Services;
(b) address and respond to service, security, and customer support needs;
(c) detect or prevent your device against cybersecurity threats such as malware
(d) detect possible false positives
Transmitted user information will only be used for the aforementioned limited purposes, which the user has agreed to.
When you install or use one of our Services, it will run in your device or environment background to help predict threats, and better protect you, your devices, and your information. For example, Foxbyte Code Inc. may use the information to:
Analyze data sent to/from your device(s) to isolate and identify threats, vulnerabilities, viruses, suspicious activity, spam, and attacks, and communicate with you about potential threats;
Participate in threat intelligence networks, conduct research, and adapt products and services to help respond to new threats;
Look for misuses of your data when you use our identity monitoring products.
To Run Our Business
We also use the information we collect for other business purposes, including to:
Authenticate your identity and prevent fraud;
Analyze your behavior to measure, customize, and improve our Site and Services, including developing new products and services;
Advertise Foxbyte Code Inc. products and services that we think may be of interest to you;
Provide customer support, troubleshoot issues, manage subscriptions, and respond to requests, questions, and comments;
Conduct market and consumer research and trend analyses;
Prevent, detect, identify, investigate, and respond to potential or actual claims, liabilities, prohibited behavior, and criminal activity; and
Comply with and enforce legal rights, requirements, agreements, and policies.
How long we store your Personal Data?
The data we collect from you may be stored, with risk-appropriate technical and organizational security measures applied to it, on in-house servers in Germany.
Foxbyte Code Inc. will keep your Personal Data for the minimum period necessary for the purposes set out in this Policy, namely (i) for as long as you are a registered subscriber or user of our products or (ii) for as long as your Personal Data is necessary for connection with the lawful purposes set out in this Policy, for which we have a valid legal basis or (iii) for as long as is reasonably necessary for business purposes related to the provision of the Services, such as internal reporting and reconciliation purposes, warranties or to provide you with feedback or information you might request.
The selective extracted and transmitted data, as listed above, are stored for the duration, as is technically necessary. As a rule, this is only a few seconds before the data is securely deleted from our servers by a high-security deletion standard. For randomized sample testing, some transmitted installed package information is stored anonymized in the form of statistics.
In all cases, we follow generally accepted standards and security measures to protect the personal data submitted to us, both during transmission and once we receive it.
Where required by law, we will delete your data within one year of your last interaction with the Services.
In addition, if any relevant legal claims are brought, we may continue to process your Personal Data for such additional periods as are necessary in connection with that claim.
Once the abovementioned periods, each to the extent applicable, have concluded, we will either permanently delete, destroy, or de-identify the relevant Personal Data so that it can no longer reasonably be tied to you.
Information We Collect from Third Parties
We may receive information about you from other sources and combine it with the information we collect directly. Examples of information we may receive from other sources include:
Updated delivery or payment information is used to correct our records.
Purchase or redemption information.
Customer support and enrollment information.
For our identity protection Consumer Products, we also may collect credit or identity information which we use to help prevent and detect fraud.
Who Do We Share Personal Data With?
We do NOT share or sell your collected data you send with third parties.
How Do We Protect Your Data?
We use administrative, organizational, technical, and physical safeguards to protect the Personal Data we collect and process. Our security controls are designed to maintain data confidentiality, integrity, and an appropriate level of availability.
What Choices Do You Have About Your Personal Data?
If one of our Android app products is installed on your device, you may stop Foxbyte Code Inc.'s collection of Personal Data from your device by uninstalling that product.
Individual Rights in Personal Data
In accordance with applicable law, you may have the right to: (i) request confirmation of whether we are processing your Personal Data; (ii) obtain access to or a copy of your Personal Data; (iii) receive a portable copy of your Personal Data, or ask us to send that information to another organization (the "right of data portability"); (iv) seek correction or amendment of inaccurate, untrue, incomplete, or improperly processed Personal Data; (v) restrict our processing of your Personal Data; (vi) object to our processing of your Personal Data; and (vii) request erasure of Personal Data held about you by us, subject to certain exceptions prescribed by law.
If you would like to exercise any of these rights, please contact us as set forth below. We will process such requests in accordance with applicable laws. To protect your privacy, we may take steps to verify your identity before fulfilling your request. For some requests and where permitted by law, an administrative fee may be charged. We will advise you of any applicable fee before performing your request.
Children's Privacy
Some of Foxbyte Code Inc.'s Services provide security features that parents may use to monitor their child's activity online, physical location, or use of a registered device. These Services require parental consent, and we do not knowingly use the Personal Data we collect from children's devices for any purpose except to deliver the Services. These products allow parents to delete their child's profile at any time. If you believe we have collected information from your child in error or have questions or concerns about our practices relating to children, please contact us as described below. If you are under the age of 18, you must have your parent's permission to access the Services. Foxbyte Code Inc. urges parents to instruct their children never to give out their real names, addresses, or phone numbers, without parental permission. If you learn that your child has provided us with Personal Data without your consent, you may alert us by contacting us as described below. Suppose we learn that we have collected any Personal Data from children under 13 (and in certain jurisdictions under the age of 16). In that case, we will promptly take steps to delete such information and terminate the child's account.
Data Transfers
Foxbyte Code Inc. is headquartered in the United States (see Contact Us for addresses), and we have operations, entities, and service providers in the United States and throughout the world. As such, our service providers and we may transfer your Personal Data to, or store or access it in jurisdictions that may not provide equivalent data protection levels as your home jurisdiction. We will take steps to ensure that your Personal Data receives an adequate level of protection in the jurisdictions in which we process it.
We do NOT transfer Personal Data to countries outside of the EEA or Switzerland through a series of intercompany agreements based on the Standard Contractual Clauses in accordance with EU law and applicable EU regulations.
Residents of the European Economic Area
If you are in the European Economic (EEA), the following additional disclosures apply.
Data Controller
Where you purchase one of Foxbyte Code Inc.'s consumer products, Foxbyte acts as the Controller of your Personal Data.
Legal Basis for Processing
When we process your Personal Data, we will only do so in the following situations:
We need to use your Personal Data to perform our contract responsibilities with you (e.g., processing payments for and providing the Services you purchase or request).
We have a legitimate interest in processing your Personal Data. For example, we have a legitimate interest in processing your Personal Data to provide, secure, and improve our Services, in communicating with you about changes to our Services, and in informing you about new services or products.
We have your consent to do so. We need to process your Personal Data to comply with our legal obligations.
Individual Rights Requests and Withdraw Consent
You may submit a request to exercise your rights in Personal Data using the mechanisms explained under "What Choices Do You Have About Your Personal Data?" above. If you initially consented to our processing of your Personal Data, you may withdraw your consent using those mechanisms or by contacting us using the contact information below.
Changes to This Privacy Policy
We may update our Privacy Policy from time to time. Thus, you are advised to review this page periodically for any changes. We will notify you of any changes by posting the new Privacy Policy on this page. These changes are effective immediately after they are posted on this page.
Contact Us
If you have questions or requests relating to personal data or privacy, please contact us through email at